This is a list of monthly "trauma tips" from a trauma specialist to help you reduce the effects of trauma and chronic stress on your life so you can live from a place of healing, hope and happiness.
Healing from trauma is a different process for each person. As a trauma-focused therapist I never tell my clients to do anything that I haven't tried or use regularly in my life. I have learned over the years through experience, research, feedback from clients and insights from other professional's successful ways of healing emotional wounds as well as managing persistent stress.  What I share with you here is both cutting edge and tried-and-true techniques for healing.
Trauma Tip #1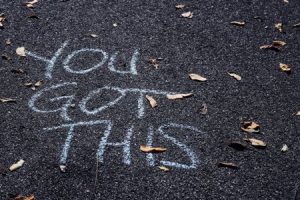 Mantras– You are enough just as you are. You deserve to take up space. Your thoughts, opinions and boundaries matter and it's okay to be YOU!
Use reminders as you go through your day to gently redirect your habituated inner critical voice. You can put your hand on your heart and use gentle appreciations and acknowledgements for how the critical voice has helped you in the past (it kept you in your place, interpreted messages from your parents or care givers or kept you safe by keeping you small).
Put sticky notes around the house with your mantra written on it. Put the notes where you will see them throughout the day including first thing in the morning and the last thing you see before you go to bed at night. Some examples of locations include:  on the refrigerator, by your coffee pot or tea kettle, on the bathroom mirror or back of the front door make or make a screen shot of your mantra and have available on your phone.
Be creative-choose a mantra that speaks to you!
Trauma Tip #2
Poetry-Three Gratitude's by Carrie Newcomer
Every night before I go to sleep
I say out loud
Three things that I'm grateful for,
All the significant, insignificant
Extraordinary, ordinary stuff of my life.
It's a small practice and humble,
And yet, I find I sleep better
Holding what lightens and softens my life
Ever so briefly at the end of the day.
Sunlight, and blueberries,
Good dogs and wool socks,
A fine rain,
A good friend,
Fresh basil and wild phlox,
My father's good health,
My daughter's new job,
The song that always makes me cry,
Always at the same part,
No matter how many times I hear it.
Decent coffee at the airport,
And your quiet breathing,
The stories you told me,
The frost patterns on the windows,
English horns and banjos,
Wood Thrush and June bugs,
The smooth glassy calm of the morning pond,
An old coat,
A new poem,
My library card,
And that my car keeps running
Despite all the miles.
And after three things,
More often than not,
I get on a roll and I just keep on going,
I keep naming and listing,
Until I lie grinning,
Blankets pulled up to my chin,
Awash with wonder
At the sweetness of it all.
Or let the author read it to you by clicking here.
Trauma Tip #3
Some people wonder what Complex PTSD (C-PTSD) is and how you get it. I recently read Demi Moores' autobiography called, Inside Out. Her life history is a classic example of what C-PTSD is a how it happened to her. She describes an early chaotic childhood, where she experienced multiple chronic traumatic events mostly by her parents. Besides the trauma that she experienced by her parents she also had other traumas happen to her by other people as well. The book also provides hope for healing and describes the often long and hard path for recovery.
Trauma Tip #4
Dr Gabor Maté (trauma and addiction expert) explains how he believes that most mental health disorders – including Anxiety and Panic Attacks – originate in childhood experience as coping mechanisms. Click here.
Trauma Tip #5
Polarity Tea (Ayurvedic recipe)
1 oz Licorice root pieces
1 oz Fennel Seed
1oz Fenugreek Seed
1 oz Flax Seed
An Osteopathic-Ayurvedic healer, Dr. Randolph Stone, developed Polarity tea. This tea is beneficial for stress, fatigue, liver or gall bladder problems, and allergies, and is soothing to respiratory and intestinal mucus membranes. It may be slightly laxative and is also a mild stimulant.
Polarity tea is an adaptogenic Ayurvedic medicine comprised of 4 roots and seeds. One-part licorice root (Glycyrrhiza glabra), one part fennel seed (Foeniculum vulgare), one part fenugreek seed (Trigonella foenum-graecum), and two parts flax seed (Linum usitatissimum).
Mix the dry ingredients together and store in a jar in the dark. To make the tea, use 1 heaping teaspoon to 1 cup of water and simmer for 20 minutes, strain and drink 1-2 cups a day hot or cold.
https://drlesliekorn.com/2018/01/adaptogens-herbal-medicines-stress/
This information is provided by Lemecia Lindsey, LICSW. Lemecia has dedicated her private counseling practice to helping clients heal from trauma. She specializes in EMDR therapy, Neurofeedback and is an Integrative Medicine Mental Health Provider.
*This list is not a substitute for medical intervention. Consult with a doctor to decide what is best for you.