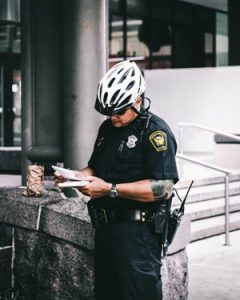 It is always a great time to show gratitude and thankfulness to those heroes that work on a daily basis to keep our community and country safe. We know that if we need help a first responder will be there for us during our time of need. First responders put their lives on the line for us and they do it not just because it is their job but because they feel a calling to serve and protect others. We also know that first responders are not the only ones who make sacrifices but their families are impacted too. Many first responders have long shifts, are gone over night, sometimes several days at a time, or may have to leave town to help others. This time away can impact families, marriages and cause general stress. Due to high levels of occupational and personal stress first responders may experience depression, anxiety, PTSD, fatigue, sleep issues, chronic pain, environmental health issues and relationship problems.
Lemecia Lindsey and Vancouver Wellness Studio provide trauma informed services to the men and women who work to protect us and keep us safe. We support first responders such as; fire fighter's, police officers and paramedics. We also provide services to military personnel (both active duty and non active duty) as well as nurses, doctors and mental health professionals.
Our trauma informed and collaborative model supports the unique needs of first responders and their families. Our holistic team is trained in the latest advances of physical and behavioral approaches to wellness. We incorporate a whole person approach to get to the root cause of the distress whether it is physical or emotional and to address the core issue rather than just treat the symptoms. Our team consists of practioners who specialize in: Acupuncture & Chinese Medicine, Naturopathic Medicine, Functional Nutrition, Massage Therapy, Personal Training & Fitness and Behavioral Health. In addition, we support families through direct services to children and their parents. This also includes activities in the yoga studio such as: yoga (prenatal, postpartum, chair yoga and yoga for men), self-defense classes, kung fu and dance. We also provide community education that can be tailored to the unique needs of first responders.
We know it can be difficult to reach out for support. First responders are used to helping others and sometimes find it difficult to ask for help. We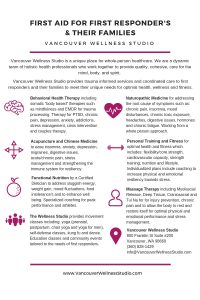 want to support you on your path to wellness and resiliency.  Please see our attached flyer that can be provided to any first responder or their family member who would benefit by our services.
To learn more about "First Aid For First Responders" and how EMDR therapy and other supportive treatments can help first responders and their families thrive click here- First Aid For First Responders.