It takes guts to overcome fear and heal from rape. Every hour 78 women are raped in the United States. Men and children are also victims of rape. In fact,1 in 33 men are sexually assaulted in their lifetimes. And over half of all rape victims know their attacker.
Rape is a crime of power, control, and extreme violence. It is not sex. Rape has a devastating,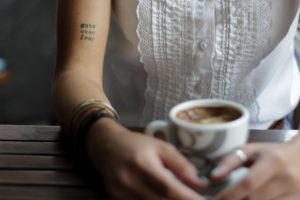 traumatic effect on it's victims. Nearly one-third of all rape victims will develop rape-related PTSD (Post Traumatic Stress Disorder) in their lifetimes. PTSD symptoms can occur shortly after the rape or years later. PTSD symptoms, numbing, hypervigilance and flashbacks, are strong reminders to get help. They helped victims to survive, but they do not go away by themselves. In fact, people will have to alter their lives to control them. Living with these symptoms can become a source of constant pain and be reminders from the past.
It is a very serious crime. Rape is one of the most under-reported crimes in the country. Only 16% of all rapes are ever reported to the police. Some reasons for survivors under reporting is due to the fear of not being believed. Rape survivors commonly feel victimized in the legal system and are hurt by our "rape culture" which also tends to blame the victim. Many survivors need help healing from not only the experience of rape but the traumatic aftermath of their report to family, friends and the legal system. This is called secondary wounding for survivors.
Here are some recommended books for survivors or rape:

After Silence: Rape & My Journey Back – Nancy Venable Raine
Lucky: A Memoir – Alice Sebold
The Story of Jane Doe: A Book About Rape – Jane Doe
Telling: A Memoir of Rape and Recovery – Patricia Weaver Francisco
The Rape Poems – Frances Driscoll
Against Our Will: Men, Women, and Rape – Susan Brownmiller
The Sexual Healing Journey – Wendy Maltz
Resurrection After Rape: A Guide to Transforming from Victim to Survivor – Matt Atkinson
More reading recommendations for rape and sexual abuse survivors can be found here: http://www.pandys.org/recommendedreading.html
If you need immediate support, you can reach your local RAINN affiliate at any time, 24/7, by calling the National Sexual Assault Hotline at 800.656.HOPE (4673). https://centers.rainn.org/
It takes power, strength and dignity to heal from rape. We provide a safe, healing place for men, women and teens to process their experience so that they can move on with their life in a new way.
EMDR therapy is a powerful tool to help rape survivors heal from their experience.  Many clients can experience significant relief in PTSD symptoms within 4-8 sessions of EMDR. Why suffer any longer than you have too? There is help available to you!
Call one of our therapists today to make a appointment. Call Angi Smith, LMHC at 503-314-9337 for a appointment.