During the holidays it can be difficult navigating family dynamics in healthy families but it is even more challenging for adult survivors of childhood abuse to spend the holidays with family members who have abused them. There are a variety of reasons why a survivor would spend the holidays with family members who abused them as children.
One reason why survivors can be drawn to parents who abused them as children is due to feeling that they are "damaged". A common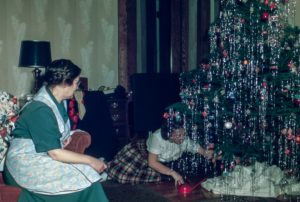 phenomenon in people who were abused as children is that they can view themselves as bad. According, to author  and trauma expert Judith Herman (1992), At the expense of their very selves, children rationalize that they caused the abuse in order to preserve an image of mother and father – those people on whom they must depend for care and protection – as "good."
Another reason, why survivors maintain relationship with the abuser in their family is due to grief. For some survivors they must disconnect from their entire family in order to maintain boundaries with one abuser. This can create a sense of tremendous grief and loss. In fact, some survivors may even be criticized by family members, turned on or made to feel guilty for distancing themselves.
Some survivors may spend the holidays with family members who abused them because they maintain hope that the abusing family member will change or be different, this time. Sometimes survivors even think that if they change their own behavior towards the abuser then the abuser will be "good". This wishful thinking is part of the denial process. As survivors heal they move through a stage of denial towards acceptance for what they can change and what they can't and use self care in the process.
Lemecia Lindsey, LICSW at Vancouver EMDR Therapy, helps adult survivors of childhood abuse. Contact with abusers can be triggering and cause a trauma response. If you are a survivor who feels confused about your relationship with abusive family members, or you feel helpless or stuck I can help you. Visit www.vancouveremdrtherapy.com for more information.